2023 Angel Gifts Tree and Toys for Tots Program
Sign ups for the 2023 PVEN Toy Program opens 9/1/2023.
Sign ups run from September 1st through November 29th.
Distribution dates are in Mid-December and are assigned when you sign up.  If you've forgotten your time slot to pick up the toys you signed up for, please call the office at 570-992-3136
A huge thank you goes out the US Marines Toys for Tots program that provide an amazing selection of toys each and every year.
Big thank yous also go out to the Elks Club, the Pocono Record's Toys for Joy program and several individuals who provide funding for this program.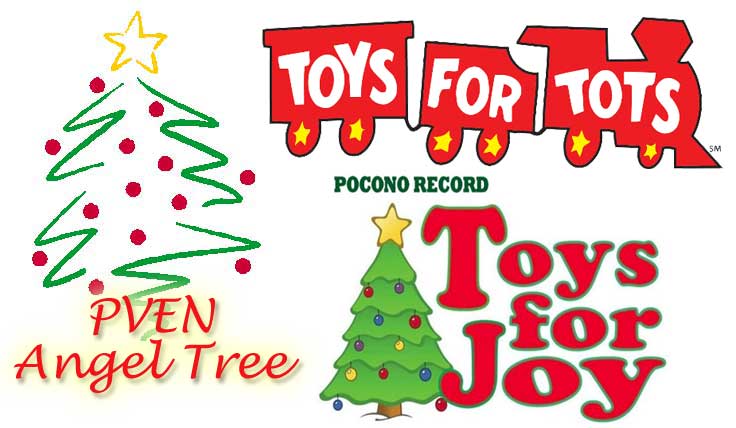 How Do I Sign Up?
All sign-ups are in-person at PVEN on Mondays and Fridays from 8am to 11am during September, October, & November. Please bring the required paperwork (see below) with you to the office and knock on the door. The office is located at 2334 Route 209, Sciota PA 18354 and is in the lower lot.
Who can participate?
Families with children ages newborn to 12 who reside in the Monroe county townships of Chestnuthill, Eldred, Hamilton, Jackson, Polk, and Ross.
Families must meet the financial guidelines established by the PA Department of Agriculture's Bureau of Food Distribution Emergency Food Assistance program
What Do I Need to Bring With Me?
Birth Certificates for all children 12 and under and custody papers, if applicable.
Current documents for 2023 verifying income for the ENTIRE household. (income tax records from 2021 will not be accepted). This includes but is not limited to:

ALL Household Pay Stubs (4 each if paid weekly, 2 if paid bi-weekly)
– AND – Public assistance records stating amounts received
– AND – Disability benefits / SSI / Social Security for 2023
– AND – Pensions
– AND – Child Support
– AND – Unemployment Benefits

Verification of address by lease, mortgage, or property taxes – must have the year 2023 on the documents. Rent receipts / bills will NOT be accepted
All addresses must be a physical address and not a PO Box
PHOTO IDENTIFICATION NECESSARY TO REGISTER AND PICK UP TOYS
Where Can I Get An Angel Gift Tree Tag?
Here are local business with our 2022 Angel Gift Tree tags:
Cherry's Family Restaurant

First Northern Bank & Trust – Gilbert

First Northern Bank & Trust – Sciota

Holiday Hair – Brodheadsville

Keller Williams West End

Kinsley's Shoprite

Kunkletown General Store

St. Lukes Physical Therapy – Brodheadsville

St. Lukes Physical Therapy – Kresgeville
Gifts must be returned to PVEN by Tuesday, December 6th.
Our angel tree tags are distributed to local businesses and churches during the first week of November but each organization puts up their angel trees at their own pace so make sure to reach out to them before you visit so you can be sure they are ready!
If you are a local business or civic organization that would like to sponsor Angel Tree gifts, please contact the PVEN Office at (570) 992-3136 and leave a message for callback.